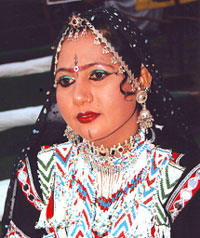 India is having a treasure of a variety of folk dances. The cultural diversity and rich traditional pattern of Indian society is truly reflected through variety of Indian cultural dances. The origin of Indian cultural dances forms can be traced to different parts of the country. Each form of dance represents the culture and ethos of a particular region or a group of people. Most of the Indian dances describe & explain the Indian art of living. Cultural dances are full of variation and multiplicity in terms of themes, forms, and styles. Indian cultural dances play an important role and provide the best medium to express the feelings and emotions to common man.
"Kamli Folk Dance"
Kalbelia Dance is very famous dance in Rajasthan India. Kalbelia dance is of the kalbelia tribe of rajasthan, the snake charmers. Kalbelia community's occupation being catching snakes and trading snake venom in Rajasthan. Dancers dress traditional black swirling skirts during Kalbelia Dance. Kalbelia Women and Girls dance on the rajasthani folk music during this dance. The rajasthani folk music plays in background and the Kalbelia women and girls dance.
See folk dancers perform the traditional dances of India
"Kalbeliya Dance"
Kalbeliya is a nomadic community who sometimes introduces themselves as Naath, Jogi, Sapere and Sadhu. Their family business is to catch snakes. This comes in handy as they showcase a number of tricks using these snakes while giving spectacular shows in nearby villages and qasbas and at their Jajmaan's place and thus earn livelihood for themselves. As the time changed they have made permanent lodgings outside the cities.
Pungi is a special instrument of Kalbeliya community. They catch snakes with the help of pungi. They enchant the snake by playing this instrument and then catch it. They believe that the snake can never bite them and they also make 'Surma' using the snake's poison . Due to the use of Surma they believe that they will never lose their eye sight.
The women of this community are expert in singing and dancing. In olden times the women use to sing and dance only on special occasions such as weddings, festivals etc. in their very own distinct style. As times changed these women started performing stage shows around the whole world and with it changed their dancing style as well as their attires. Their swaying dresses, made up of colourful beads give a distinct identity to the women of Kalbeliya community. What makes this attractive dress more interesting is that it is made by the Kalbeliya women themselves. A very interesting fact about them is that they never teach the folk arts to their children. They gain expertise in singing and dancing by watching the elders doing it at home.
"Bhavai dance"
During Bhavai dance there are some of musical instruments play with folk music like pakhwaja, dholak, jhanjhar, sarangi, harmonium and plaintive notes of the 'been' which is the wooden instrument of the snake charmers. During the Kalbelia Dance of rajasthan we can see the flexibility of the dancers body.